Colorado is a state located in the western United States. It is known for its diverse geography, including the Rocky Mountains, the Colorado Plateau, and the Great Plains. With a population of over 5.7 million people, it is the 21st most populous state in the country. Colorado is also famous for its outdoor recreational activities, such as hiking, skiing, and whitewater rafting.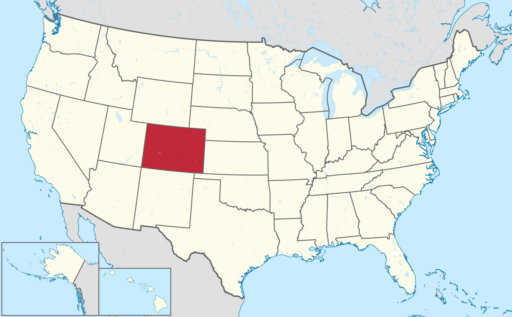 The state of Colorado was named after the Colorado River, which was named by Spanish explorers for its reddish color. It became a territory in 1861 and was admitted to the Union as the 38th state on August 1, 1876. The capital and largest city of Colorado is Denver.
One of the major attractions in Colorado is its stunning natural beauty. The state is home to four national parks: Rocky Mountain National Park, Mesa Verde National Park, Great Sand Dunes National Park, and Black Canyon of the Gunnison National Park. These parks offer visitors the opportunity to explore unique landscapes and engage in various outdoor activities.
Rocky Mountain National Park is perhaps the most well-known national park in Colorado. It spans over 415 square miles and features majestic mountain peaks, alpine lakes, and diverse wildlife. The park offers numerous hiking trails, scenic drives, and camping sites for visitors to enjoy.
Mesa Verde National Park is another popular destination in Colorado. It is known for its well-preserved cliff dwellings that were built by the Ancestral Puebloans over 700 years ago. Visitors can take guided tours to explore these ancient structures and learn about the rich history of the region.
Great Sand Dunes National Park is home to the tallest sand dunes in North America. The park offers opportunities for sandboarding, hiking, and camping amidst the unique desert-like landscape. Visitors can also cool off in Medano Creek, which flows at the base of the dunes during spring and early summer.
Black Canyon of the Gunnison National Park is renowned for its dramatic cliffs and deep, narrow canyons. The park offers scenic drives along the rim, hiking trails, and opportunities for rock climbing and fishing in the Gunnison River.
Apart from its national parks, Colorado also boasts numerous other outdoor recreational areas. The state has over 20 ski resorts, making it a popular destination for winter sports enthusiasts. Ski resorts such as Aspen, Vail, and Breckenridge attract visitors from all over the world with their world-class slopes and amenities.
Colorado is also known for its extensive trail systems, which are perfect for hiking, mountain biking, and horseback riding. The Colorado Trail and the Continental Divide Trail are two of the most famous long-distance trails that traverse the state's diverse landscapes.
In addition to its natural beauty, Colorado is home to vibrant cities and towns that offer a variety of cultural and entertainment options. Denver, the capital city, is a bustling metropolis with a thriving arts scene, numerous museums, and professional sports teams. The city also hosts various festivals and events throughout the year, including the famous Denver Broncos football games.
Boulder, located just northwest of Denver, is known for its progressive culture and outdoor-oriented lifestyle. The city is home to the University of Colorado Boulder and offers a wide range of recreational activities, including rock climbing, hiking, and biking.
Colorado Springs is another major city in the state, situated at the base of Pikes Peak. It is known for its stunning natural surroundings and is often referred to as "Olympic City USA" due to its rich sports history. The city is home to the United States Olympic Training Center and hosts various sporting events throughout the year.
Fort Collins, located in northern Colorado, is a vibrant college town known for its craft breweries and lively downtown area. The city offers a range of cultural attractions, including art galleries, theaters, and music venues.
Apart from its cities, Colorado is also famous for its mining history. The state experienced a gold rush in the late 19th century, which led to the establishment of numerous mining towns. Today, many of these towns have been preserved as historic districts and offer visitors a glimpse into the state's past.
One such town is Leadville, located in the heart of the Rocky Mountains. It was once a booming mining town and is now known for its Victorian architecture and outdoor recreational opportunities. Leadville is also home to the Leadville Trail 100, a famous ultramarathon that attracts runners from around the world.
Another historic mining town is Cripple Creek, located in the southern part of the state. It was once one of the richest gold mining areas in Colorado and is now a popular tourist destination. Visitors can explore the town's historic buildings, try their luck at the casinos, or take a ride on the Cripple Creek and Victor Narrow Gauge Railroad.
Colorado's rich Native American history is also evident in various parts of the state. The Ute Mountain Ute Tribe and the Southern Ute Indian Tribe have reservations in southwestern Colorado. These tribes preserve their cultural heritage through traditional ceremonies, artwork, and museums.
In addition to its natural and cultural attractions, Colorado is known for its progressive policies and initiatives. The state was one of the first to legalize recreational marijuana in 2012, leading to a thriving cannabis industry. It has also implemented renewable energy goals and is a leader in wind and solar power production.
Colorado's economy is diverse and includes sectors such as agriculture, manufacturing, tourism, and technology. The state is known for its agricultural products, including cattle, wheat, corn, and dairy products. It is also a major producer of beer, with over 400 breweries operating in the state.
The technology industry has been growing rapidly in Colorado, particularly in the Denver metropolitan area. The region has become known as the "Silicon Mountain" due to the presence of numerous tech companies and startups. The state also has a strong aerospace industry, with companies such as Lockheed Martin and Ball Aerospace having a significant presence.
Education is highly valued in Colorado, and the state has several prestigious universities and colleges. The University of Colorado system, which includes campuses in Boulder, Denver, and Colorado Springs, is renowned for its research and academic programs. Other notable institutions include Colorado State University in Fort Collins and the United States Air Force Academy in Colorado Springs.
In terms of transportation, Colorado has an extensive network of highways and interstates that connect major cities and towns. The state is also served by several airports, including Denver International Airport, which is one of the busiest airports in the country.
Overall, Colorado offers a unique blend of natural beauty, outdoor recreational opportunities, vibrant cities, and cultural attractions. Whether you are interested in exploring national parks, hitting the slopes, or immersing yourself in the state's rich history, Colorado has something to offer for everyone.
The beautiful scenery in Colorado would be great to print on fashion shirts that show the beauty of the scenery and people here: